Pediatricians in Frisco TX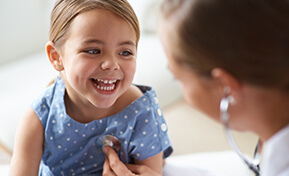 North Texas Preferred Health Partners - Frisco and - Plano welcomes pediatric patients ages 6 and above to our practice.
Annual Well-Child Visits
Annual well-child appointments are important for the health of your child, adolescent or teen. Identifying risk factors for future health problems, counseling on healthy lifestyle habits, disease prevention and vaccinations are all important aspects of your child's health.
Family medicine doctors have the unique opportunity to provide this care within the context of knowing the health status of the parents and often the grandparents as well! Understanding the family dynamic can provide physicians great insight to health needs of the youngest members of the family as they make the transition into adulthood.
Treatment of Common Childhood Illness and Injuries
The family medicine physicians at NTPHP-Frisco and NTPHP-Plano carry years of experience treating common childhood illness and injuries as well. From sprains and strains, to colds and flus, to chronic conditions like asthma and ADHD, our physicians can help provide comprehensive care for your child.
We all know that pediatric conditions always seem to arise at the most inopportune moments; and having your concierge physician available to counsel and advise you through these events can be a most valuable asset.