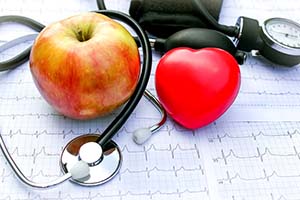 The leading cause of death in our country is heart disease. While this number is slowly declining due to efforts in preventive care and a focus on healthier living, the numbers remain staggering. At your next doctor's visit, two important items should be discussed: identify (and address) your risk factors and determine if any cardiac testing is necessary.
Steps to take care of your heart health:
Identify your risk factors as one of the following:

Modifiable Heart Disease Risk Factors (those that you can control with such as blood pressure control, cholesterol control, diabetes control, tobacco cessation and active lifestyle with exercise)
Non-modifiable Heart Disease Risk Factors (those that you are born with such as age, gender and family history)

Assess how healthy your lifestyle is and if there is any obvious disease in the family
See your primary care provider to assess your blood pressure and get screened for diabetes and cholesterol. If you have hypertension (high blood pressure), diabetes or hyperlipidemia (high cholesterol), it is critical that you understand and adhere to your medication regimen and get routine office visits with bloodwork to make sure your metrics are in order.
Cardiac testing is also typically recommended, depending on your personal risk and the presence or absence of symptoms. Cardiac testing comes in several flavors, but the most common stepwise workup includes:
EKG

An easy, safe, and inexpensive test that can provide valuable information about the structure and rhythm of your heart.

Calcium score

CT scan of the heart which provides information about any potential plaque that has built-up in your heart. Measuring this gives insight into your future cardiac health

Stress test

Assures that you have a healthy heart, but an abnormal test triggers additional testing to assess the extent of any heart blockages.
Our physicians at North Texas Preferred Health Partners look forward to partnering with you to make the right choices for your heart health.