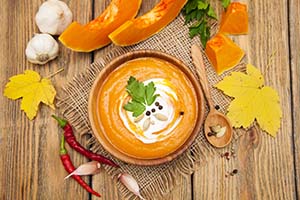 Eating between November through January can be tough for some. There are holiday parties and family gatherings that tend to revolve around food. Not only that, but as we near winter, the temperatures drop and the chances of getting sick from colds can increase. Let's "Squash the Habit" of eating unhealthy around the Holidays and start incorporating some winter super-foods that provide you with many nutritional benefits to stay healthy while not packing on the pounds.
Winter Squash (pumpkin, acorn squash, butternut squash, spaghetti squash, hubbard squash, kabocha squash, sweet dumpling squash, delicata squash and buttercup squash)
Winter squash gets its name because it has a tough skin that can last through the cold winter months. Winter squash is generally cooked before eaten, and the skin is not consumed compared to summer squash (zucchini). It is naturally low in fat and calories, tastes great, and is versatile in many recipes. Not only is winter squash packed with fiber, but it is rich in antioxidants, vitamins, and minerals. A diet high in antioxidants, such as beta-carotene, has been shown to help prevent chronic conditions like heart disease, diabetes, and cancer. Eating foods high in vitamin C and Vitamin A can be supportive to your immune system and keep you from getting sick. Winter squash is a low glycemic food which can be a great way to cut down on carbohydrates and improve blood sugar management.
Featured Recipe: https://www.loveandlemons.com/butternut-squash-soup/
Sweet Potatoes
While both types of potatoes offer nutritional benefits, sweet potatoes are considered the "super-food" of the potatoes. Sweet potatoes contain high amounts of vitamins and minerals and can help boost your immune system, protect your vision, and even help lower your risk of cancer. Just one sweet potato contains almost 400% of your daily vitamin A requirements! Since they are fiber packed, they can support blood sugar and cholesterol management. Sweet potatoes are easy to cook and are so versatile. You can mash, roast, or bake them. They are great in soups, stews, chilis or any way you would use other potatoes.
Recipe: https://www.loveandlemons.com/stuffed-sweet-potatoes/
Kale
Kale is considered a super-food because of how nutrient-dense it is in vitamins and minerals. Just one cup of Kale provides over 100% of your daily value of vitamin C, vitamin A, and vitamin K. Kale has anti-inflammatory, anti-viral, and disease-fighting antioxidant properties that include beta carotene, quercetin, and kaempferol, making it good for your heart, vision, and prevent against diseases like cancer. It has very few calories and can be added to your smoothies, sauces, salads, and more. Pair it with other winter super-foods like delicata squash, sweet potatoes, or butternut squash!
Featured Recipe
https://www.loveandlemons.com/roasted-delicata-squash-kale-salad/
Back to Blog