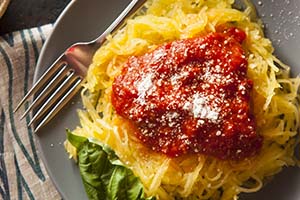 A change in your diet and exercise routine is always top of mind with the new year around the corner. While healthy eating and a steady exercise routine is always important, we wanted to provide a few tips to help you make lifestyle changes instead of short-term resolutions:
Set SMART Goals.

You want your goals to be Specific, Measurable, Achievable, Relevant and Time bound.

Become a more mindful eater.

Wait until ~15 minutes after you finish eating to see how you feel. Are you full? Satisfied? Energized? Bloated? Still Hungry? Etc. Don't judge the feeling, just use it as a tool to move forward about which foods help you feel your best.

Make healthy substitutes for more nutrient dense foods.

Low carb tortillas for tacos
Spaghetti squash or zucchini noodles for your next Italian dinner
Cauliflower or broccoli rice
Greek yogurt for sour cream for dips
Lettuce or sweet potato buns for a burger

Increase protein intake.

Incorporate eggs, dairy products, lean meats, nuts/seeds, beans throughout your day
Tips to boost protein with your meals—add extra egg whites to your recipes, add protein powder into food (ex: oatmeal), top your meal with Greek yogurt, pureeing cannellini beans in your mashed potatoes or sprinkling nutritional yeast on top of popcorn or a salad.

Get moving.

A simple 5-minute brisk post-meal walk, three times daily, can increase your daily calorie burn by up to 70 calories per day. By making this a habit, you can burn an additional 25,550 calories per year (that can be equivalent to 7-8 lbs of weight loss per year!).
Start by allocating 5min of your lunchbreak to include a walk

Remove the word diet and cheat meal.

Dieting usually has a beginning and an end and cheating makes us feel like we have done something bad. Making a lifestyle change can lead to long term results and making the choice to have a cookie is not cheating it's a treat.
Back to Blog